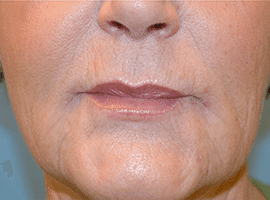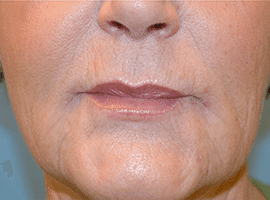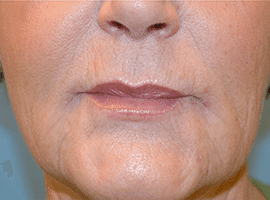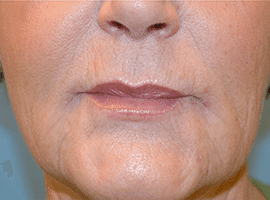 All photos are displayed with patient consent.
What is Juvederm?
Juvederm® is an injectable soft tissue filler to fill in wrinkles and facial depressions that may come with age. The Juvederm family of products includes Voluma®, Vollure® and Volbella® which are approved by the (FDA) for use in helping to create a smoother and/or fuller appearance in the face, including nasolabial folds, cheeks and lips, and are frequently used to correct scarring, wrinkles, and other depressions in the skin.
The Juvederm® family of products are used for facial rejuvenation by filling in lines and aging defects of the facial skin and soft tissue. Many patients misunderstand fillers such as Juvederm® and sometime confuse them with BOTOX®. Dermal fillers like Juvederm® are often called injectable fillers and are substances that are injected under the skin or lips to plump up the tissues. Facial fillers replace skin fluid that, when lost, cause wrinkles. In youth, our skin is plump from a natural sugar called Hyaluronic acid that attracts water. As we age, our skin thins by loss of collagen and fluid. Every time you, frown, squint, or smile, you put stress on the collagen in your skin. The effect of these facial expressions is cumulative, and facial lines begin to appear. Wrinkle fillers injections may be used in combination with Botox Cosmetic to possibly provide effective, immediate correction with little to no downtime. You may return to normal activities within hours.
Before and After Dermal Filler Photographs
Select a patient below to view more detailed pictures and information about the injectable filler procedures performed by Dr. Joseph.
 Juvederm™, Voluma™, Volbella™, and Vollure™
These are all crystal-clear biodegradable synthetic injectable gels. These products use no animal-derived materials, so there is no need for a spot test before treatment. This filler material (hyaluronic acid) is naturally occurring in our bodies and it attracts water, hydrating your skin.
Superficial Fillers (Fine lines and wrinkles)
Juvederm® is a smooth consistency gels made of hyaluronic acid. These injectable gels are placed under the skin to reduce fine lines and wrinkles providing a smooth, natural look and feel.
Deep Fillers
Juvederm Voluma® is FDA approved to instantly add volume to the cheek area. It gives you a subtle lift, helping to restore contour and a more youthful profile, for up to 2 years. The thicker fillers are better for volume enhancement, and are used to treat the areas of the face that need to be "plumped up."
Where are Dermal Fillers Used?
THE LIPS – Juvederm Volbella® can be used in the lips to restore what is lost with aging. Fillers can increase lip fullness and enhance the natural lip outline and definition. They can also plump out "lipstick lines".
THE NASOLABIAL FOLD – Juvederm Vollure® Filler may be used to soften the nasolabial folds (laugh lines) or "parenthesis lines". The fold may not be totally eliminated and we would look unnatural without any smile lines. For most patients with moderate to deep nasolabial folds (smile lines) a syringe of filler for each side is needed.
CHEEK FULLNESS – Another area for the use of injectable fillers is the "cheek area" or "midface".   Juvederm Voluma ® injectable gel can instantly add volume to the cheek area for a natural "midface lift" for up to 2 years. Enjoy an instant, long lasting, subtle and youthful facial lift, by enhancing both volume and lifted contours of the cheeks, relieving the flatness and sunken-in appearance that accompanies sagging cheek skin.
CHIN and JAWLINE DEFINITION – Fillers such as Juvederm Voluma® and Vollure® can also be used to augment facial anatomy as in making a more prominent chin, defining the jawline or filling in defects and scars.
THE TEAR TROUGH – The tear trough are lines that are underneath the lower eyelids tear often giving patients a hollow, sunken or dark circle appearance. Injecting dermal fillers, will plump out the depression and improves the "dark circle" look. Tear Trough Fillers are suitable for anyone who has:
Sunken Eyes
Tired looking eyes
Tear Troughs
Dark circles under the eyes
Eye bags
THE LIQUID FACELIFT – A liquid face lift is the lifting, plumping, filling, smoothing, and/or re-contouring of the face through the use of dermal fillers such as Restylane®, Lyft®, Juvederm®, and Vollure® and Voluma. These products are often used in conjunction with each other and in addition to a neurotoxin like Botox® or Dysport®. Facelift of the future? – The liquid face lift seems to be a good option for addressing the signs of aging without surgery. The risks are less than those of surgical approaches, and the results can be quite impressive. Using refined techniques and skills, we are able to lift, contour and reduce wrinkles by treating your face or a specific facial feature with advanced dermal fillers (Restylane®, Juvederm®, Lyft®, Voluma®, Vollure®) and Botox® or Dysport®. Giving you the tightening of a facelift with the added benefit of added volume and dimension.
How are Dermal Fillers Administered?
Fillers such as Juvederm® are injected through small needles. Dr. Joseph goes to great lengths to make this procedure painless. All patients are first treated with numbing cream on the areas to be injected. If the lips are to be injected, a numbing cream is first placed, and then several small dental anesthetic injections or ice is applied to totally numb the lips and related areas for a truly painless procedure.
The filler is then injected in the lips, wrinkles or folds and takes only minutes. Ice is applied immediately after the injections. You may return to normal activities within hours.
You should refrain from aspirin or drugs that delay clotting for 1 week before treatment to decrease bruising when injecting fillers.
Dr. Joseph recommends a return visit in two weeks to check the result. Filler injections are a sculpting process and multiple appointments may be required to provide optimal results.
Are Dermal Fillers Safe?
The hyaluronic acid fillers are sterile gels, which are biocompatible and biodegradable which means that it is not harmful to the body and is broken down and removed from the body naturally.The advantages of these modern fillers include that they are non-permanent, unlike the surgical alternative.
Frequently Asked Questions
Who performs the injection in our office? – Dr. Joseph personally performs 100% of all injectable treatments.
How long does it take? – After you have been evaluated, The first visit is usually 45-60 minutes depending on your individual need. touch up visits are usually 30-40 minutes.
How soon will I see the results? – The result will usually be seen immediately. However, there may be some slight redness or mild bruising.
How long does it last? – Hyaluronic acid dermal fillers will usually last 8 – 24 months, depending on the type of filler and area treated.
How much does Dermal filler cost? – Our office charges by the number of syringes or cc's necessary to get the best result. Some offices and spas offer occasional discounts of dermal fillers however, in many offices, nurses, interns or other staff performs the injections. Please call our office to get the current price per syringe.
What if I don't like it? – -The beauty of HA dermal fillers is that they are all completely reversible. It can be reversed by the doctor, within a matter of hours using the reversal agent Hyalase. Only trained physicians and dentists can administer Hyalase because it is a prescription only drug.