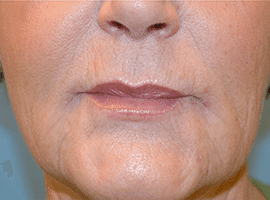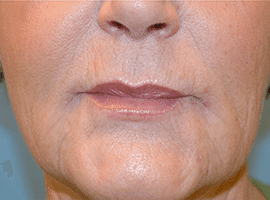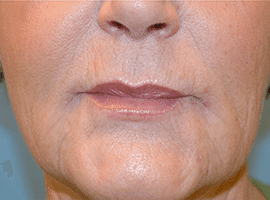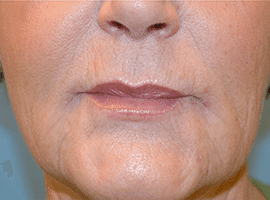 All photos are displayed with Patient Consent
Non-Surgical Liquid Facelift
We can now treat the signs of aging using non-surgical tools such as Botox and Dermal fillers to potentially stave off a facelift for a while. Facial aging is not dependent on a patient's age exclusively, but rather on the quality of their skin — tone, texture, color and thickness — as well as muscle tone, subcutaneous thickness, weight fluctuations and, of course, genetics. We can now treat facial aging by protecting, preventing and treating the key signs. The best way to slow down facial aging is to establish a long-term maintenance plan that involves skincare products such as sunblock and retinoids; and may include injectables and light-energy-based treatments to tighten the skin around the jowl and neck area; and fillers to restore volume.
A non-surgical approach to facial rejuvenation is not for every candidate. If a patient has excess skin, a machine or injectable won't tighten it to produce the desired effect. At this point, they are candidates for a surgical procedure.
Recent advancements in cosmetic surgery make it possible to gently lift and contour the face, removing a tired, gaunt, or haggard appearance. In addition to Botox® and Dysport®, several FDA-approved dermal fillers are now available for wrinkle correction. Products such as Restylane®, Perlane® and Juvederm™ are providing longer lasting and more cost effective results.
Dr. Joseph is one of a small but growing number of facial cosmetic surgeons who specialize in the art of dermal filler and neurotoxin treatments. He has developed advanced techniques in the art of non-surgical facial contouring. Dr. Joseph uses his background in facial surgery and art appreciation to lift, sculpt and contour facial features without surgery.
Before and After Photographs of Liquid Facelifts
Select a patient below to view more detailed pictures and information about the non surgical services performed by Dr. Joseph.
What Ages Our Appearance the Most?
What ages our appearance the most is a combination lines and wrinkles, discoloration, and sagging skin. However, the one major underlying cause for the sagging, lines, and wrinkles is the loss of fullness.As we grow older, we seem to accumulate fat around our middles, but lose it from our faces. A youthful face is most likely a face with full, rounded cheeks. That's because fat plays a large part in filling out the skin and keeps our faces looking smooth and supple.Not only do we lose fat, but also collagen, which our bodies stop producing around age 25. To a lesser degree, we also lose muscle in the aging process. All of this adds up to an overall decrease in facial fullness.So, if loss of fullness is the primary factor for facial aging, then why is a facelift the standard for reclaiming a younger appearance? Truthfully, for many patients, we can improve the appearance of the aging face not through stretching the skin tighter, but filling it from the inside.Each dermal filler has unique attributes and requires subtle variations in injection technique to optimize results. An individual's unique facial characteristics, skin conditions and correction needs will determine which products and procedures should be used for superior outcomes. The results range from subtle to significant and are often quite impressive.
What is a Liquid Facelift?
A liquid face lift is the lifting, plumping, filling, smoothing, and/or re-contouring of the face through the use of dermal fillers such as Restylane®, Perlane®, Radiesse®, Juvederm®, and Sculptra®. These products are often used in conjunction with each other and in addition to a neurotoxin like Botox® or Dysport®.Dr. Joseph will usually opt for one of the "temporary" fillers, so that if anything is not to your liking, you need only wait until it "wears off" in six to twelve months. Once you've decided that you like the result, you can always go back and ask for one of the longer-lasting fillers when your results begin to fade.
Facelift of the Future?
The Non-Surgical Liquid Face Lift seems to be a good option for addressing the signs of aging without surgery. The risks are less than those of surgical approaches, and the results can be quite impressive. . Using refined techniques and skills, we are able to lift, contour and reduce wrinkles by treating your face or a specific facial feature with advanced dermal fillers ( such as Restylane®, Juvederm®, Radiesse®, Perlane® or Sculptra®) and Botox® or Dysport®. Giving you the tightening of a facelift with the added benefit of added volume and dimension.